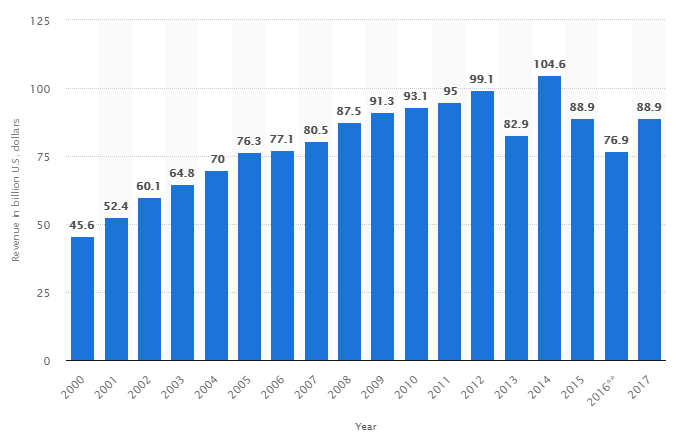 In 2017 over 88.9 Billion was spent on outsourced services by businesses
This statistic shows the global market size of outsourced services from 2000 to 2017. In 2017, the global outsourcing market amounted to 88.9 billion U.S. dollars.
The global outsourcing market – additional information
The revenue of the global outsourced services industry has been unsteady over the last few years. In 2016, the industry market size dropped to 76.9 billion U.S. dollars, the lowest figure seen in a decade. The largest share of revenue for this industry came from Europe, the Middle East and Africa, followed by the Americas. A much smaller share of global revenue came from the Asia Pacific region.
Outsourcing involves the contracting out of business processes to third parties, usually in order for the business to avoid certain costs, such as taxes. In 2016, business process outsourcing contributed a much smaller proportion of the industry's global revenue than information technology outsourcing, generating 24 billion and 52.9 billion U.S. dollars respectively.
Other outsourcing segments within the global industry include business services, energy, healthcare and pharmaceuticals, retail, travel and transport, and telecom and media. In 2016, the leading driver for using outsourcing services, according to business executives, was to cut costs. Other drivers included, enabling focus on core business and solving capacity issues.